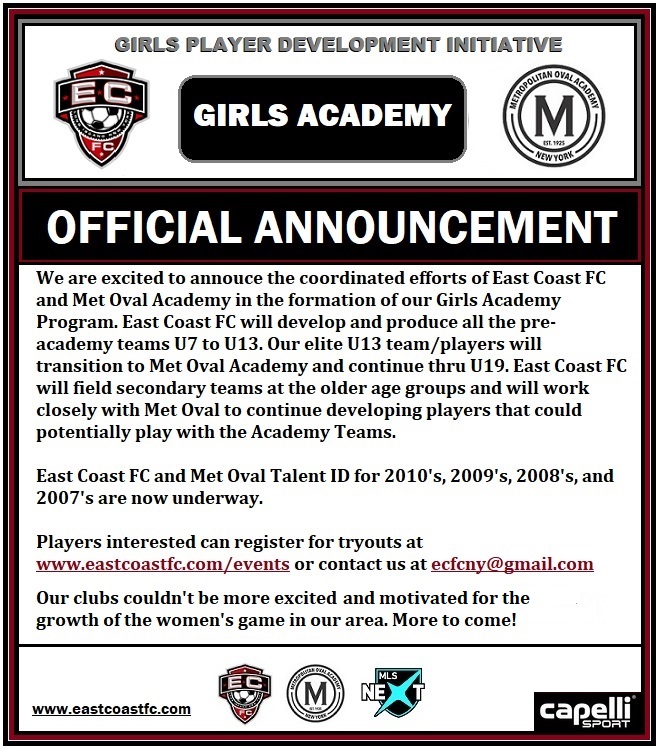 ACADEMY AND PRE-ACADEMY GIRLS PROGRAM
East Coast / Met Oval continues to focus on its girls program through our Youth Center Of Excellence structure and developmental methodologies. East Coast / Met Oval is dedicated to developing New York's elite level soccer talent by offering youth of all backgrounds the opportunity to play soccer in a committed environment.
Standouts from over the years including Angela Aguero (01 Penn State) and Bella Sember (02 UNC) have played and developed here at Met Oval. Both have gone on to become a part of Women's Youth National teams. Bella being identified as one of the top players in her age group and is currently part of the u17 U.S. Women's National Team.
Met Oval along with its partner East Coast F.C. has over 10+ teams composed of ages 2014 - 2007 servicing the 5 boroughs and Nassau county. The teams will compete in NYCSL, EDP, US Youth National League, and possibly the G.A.L. (Girls Academy League) * platforms.
*G.A.L. Application submitted* (Girls Academy League)

GIRLS TEAMS
2013 Verona
2013 Villareal
2012 Roma
2012 Juventus
2012 Venezia
2011 Aston Villa
2011 Levante
2010 Sevilla
2009 Chelsea
2009 Fiorentina

2008 Lyon
2007 United